shower glass door
The bathroom is a place where it should be not only clean and hygienic, but comfortable and beautiful.
Everything in an ideal bathroom is at hand, everything is comfortably arranged and functional in its own way.
In order to achieve all this, it is necessary to think in advance not only about professional finishing with appropriate materials, not only about moisture-proof furniture and good plumbing, but also a competent layout.
The shower
area deserves special attention. There are some of the most popular ways to separate a shower from other areas of the bathroom - with the help of a water box, a cabin or glass doors. By the way, it is the latter option that is often the most practical and attractive from an aesthetic and practical point of view. Let's talk about it in more detail.
shower glass door
Glass doors for the shower
allow you to comfortably separate the shower area, as well as isolate other elements of the bathroom interior from splashes and steam. Their installation makes it possible to save free space, they do not constrain movement, as cabs and boxes do. In such showers, which are separated only by doors, it is not so stuffy.
Modern shower doors
are made of special tempered glass, which is several times superior to ordinary glass in some respects - it is much stronger. Shower doors consist of fixed and several movable leaf elements, the number of which, as a rule, varies from one to three.
According to the type of opening, doors for the shower can be both swinging and sliding. The latter, by the way, are great for compact bathrooms, where it is advisable to think about saving space. In terms of design and external shapes, glass doors can be represented by a wide variety of models, including custom-made ones. Glass in this case can be either transparent, opaque or patterned.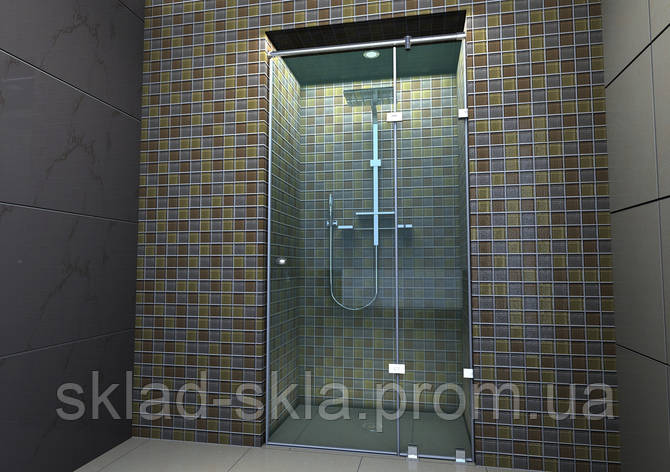 shower glass door
The main advantages of glass shower doors are the practical properties of glass. The special tempered glass is strong enough, it is not afraid of moisture and temperature differences, it lasts a long time, it is easy to care for it. Moreover, high-quality glass is an environmentally friendly and aesthetically attractive material.